Over the past 12 months, inflation has dominated the news cycle and impacted millions of businesses across the globe in almost every sector imaginable. Since the start of 2023, there have been signs that after aggressive interest rate increases inflation is slowing, yet things are still far from certain with issues such as the ongoing war in Ukraine and slowing global economic growth impacting the economic outlook.
So how is this new economic environment currently affecting the marine services industry, and what can organisations be doing to stay ahead?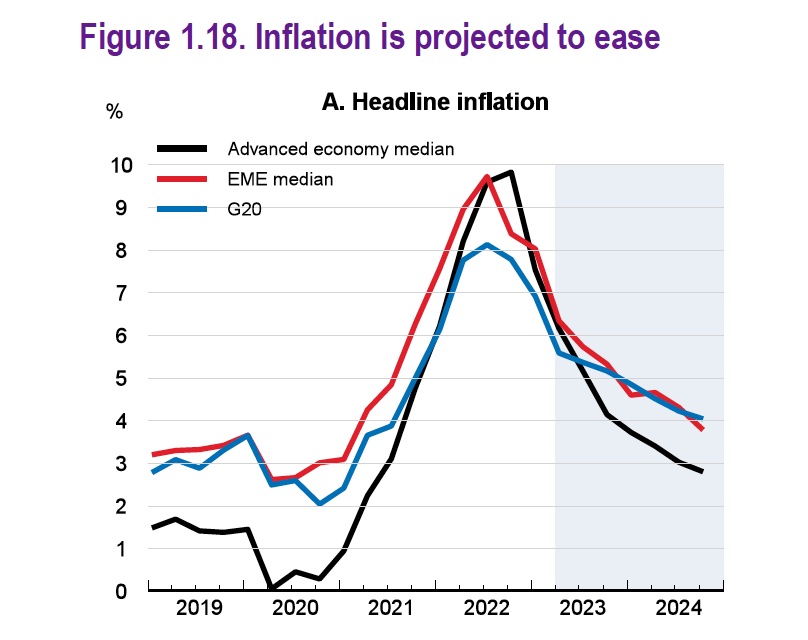 Inflation is looking to ease across the board according to OECD Projections. Source: OECD Economic Outlook 113 database; and OECD calculations
The current outlook for the marine services industry
As with every industry across the globe, the marine services sector faced significant challenges over the last few years, with the COVID-19 pandemic creating a perfect storm with labour shortages, price hikes, and supply-chain issues. This led to large backlogs for parts and equipment while prices were on the rise.
These issues led to rampant inflation throughout 2022, placing even further pressure on businesses and organisations across the globe. As we reach the halfway point of 2023, indications that inflation is showing signs of easing and pricing pressure on the marine services industry is lifting; however, there is still a lot of uncertainty about the future.
There is considerable uncertainty about the domestic economy. Although inflation has started to decelerate, higher interest rates are here for longer which means there are still many forces impacting discretionary spending. Sticky inflation and high interest rates are forcing boat owners to watch their spending, reducing disposable income.
Meanwhile, the global growth outlook is is expected to decline as China accepts slower growth and the U.S. deals with pandemic spending aftermath. The global fight against inflation is expected to have a direct affect on how much disposable income boat owners have to buy and maintain their vessels.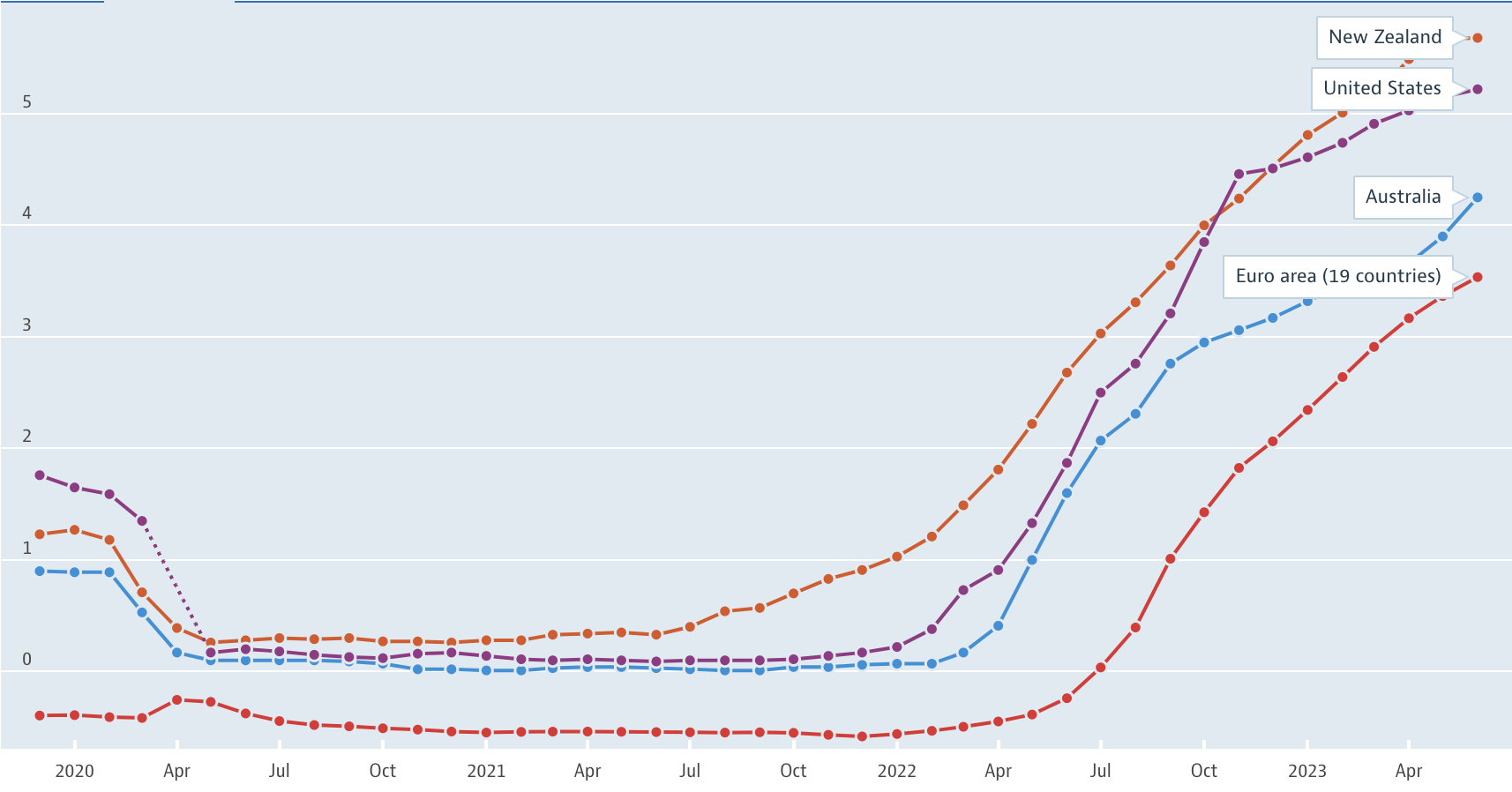 Short-term interest rates increasing according to OECD Projections. Source: OECD Economic Outlook 113 database; and OECD calculations
How can businesses adapt to precarious economic conditions?
Although indicators from 2023 show inflation might be coming down, the uncertainty means that businesses operating within the marine services industry should still be taking steps to help mitigate future downturns.
Just because inflation is decreasing, businesses should not expect prices to start dropping. In these times of such uncertainty, the most common prediction is that prices will not decrease but instead plateau out at their current rate. This means that organisations operating within the marine services sector should anticipate these costs when forecasting for the future.
Evaluate your organisation
Businesses should take this opportunity to take the time to re-evaluate their organisation and identify areas they could improve. For example, this could be:
– Optimising operations to reduce costs.
– Monitoring customer payments and collecting older debts.
– Ensuring your marketing strategy and planning is current.
– Adopting new technology and automation.
– Focusing on building strong supplier relationships to ensure stability during times of uncertainty.
One of the biggest issues of recent years has been the availability of certain items. Although supply chain issues are declining and stock levels rising, and businesses no longer need to plan as far ahead as they have been, it is important to keep focused on the situation. The uncertainty means businesses should remain observant and wary, watching what is happening in the boat inventory market to ensure that they can react accordingly.
The 'Great Resignation' has been a major factor influencing sectors across the globe, making for an incredibly tight job market. This means that businesses need to ensure that they are taking the steps now to improve staff satisfaction so they can retain their existing teams and continue to attract the very best in new talent.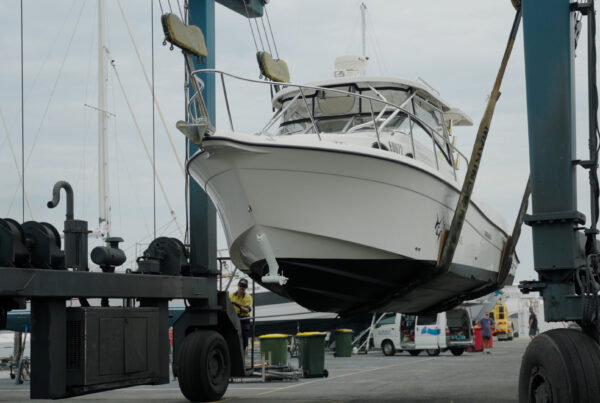 High inflation and ever-rising interest rates are forcing boat owners to pay closer attention to their running costs.
Final thoughts
There can be no denying that the rapid rises in inflation profoundly impacted the marine services industry. Rising fuel and energy costs, significant delays in the supply chain, and challenges with labour retention all made for a challenging couple of years.
However, as we are beginning to see signs that inflation is starting to decrease, and the pricing pressure that businesses have been facing is easing, it does not mean that organisations can relax. There is still a lot of uncertainty about the future, which means a new battleground of higher interest rates is emerging, which means business owners need to act now to remain focused on taking steps to ensure their continued viability and growth.
As we move into the second half of 2023, it is time to embrace innovation, focusing on providing customers with the very best products and experiences every time. This is a belief that propels us forward here at PropOne.
Our non-toxic foul-release propeller coating is designed to help you improve performance, lower fuel consumption, and maximise lifespan at a fraction of the cost of similar products on the market. So if  you want to learn more about our unique range, get in touch today!